Adept Enterprise® - Software as a Service
Enterprise Resource Planning Software as a Service
Innovative Enterprise software

Adept Enterprise® is a secure software as a service that provides convenient, centralized access for the comprehensive management and automation of mission critical systems. Accessing systems in the secure software as a service environment not only enhances productivity, but also streamlines management processes and enhances working relationships with your business customers, saving time and money.

Adept offers integrated cybersecurity technology within all of our Business Process Management software systems. With today's mounting cybersecurity threats, we have secured all our software as a service products and infrastructure with Adept Enterprise® secure services. Adept's secure technology is never breached, ensuring that sensitive data remains safe and that end users are protected. Adept's services are coupled with 24X7 monitoring and expert guidance from our professionals.

Every Adept system comes with end to end customization tailored to meet your organization's unique business processes and growing needs. Adept's flexible Enterprise as a Service licensing plans provide you with options to purchase only what you need.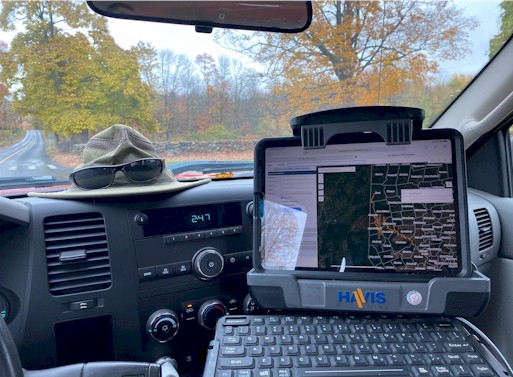 Unlike our competition, we have NEVER FAILED to implement any of our enterprise wide software systems on time, on budget, and with customer full SOW (Scope Of Work) satisfaction in our 21 years of existence.

Business Intelligence

Manage the critical processes for:
Customer Relationship Management
Supply Chain Management
Inventory Management Systems
Financial Management

Land Management

Manage the life cycle of permits and activities for:
Permits
Building
Planning
Code Enforcement Complaints and Violations
Public Health, and Public Works

Shoreline Management

Meet FERC requirements and code compliance for Real Estate, Recreation and Shoreline Departments.
Permits for Docks, Seawalls, Vegetative Buffers
Compliance Enforcement
Transfer Tracking
Property and Tax Assessor Data Management

Forestry Management

Specifically designed for timber-related industries and sustainable restoration initiatives.
Manage Stands and Stand Inventory
Timber Inventory, Timber Volumes and Values
Track Scale Reports and Contracts
Manage Treatments Type Activities

Resource and Asset Management

Manage and support your assets across your organization.
Manage Inventory
Procurement
Contracts and SLA's
Work Activities and Tracking
Operations and Maintenance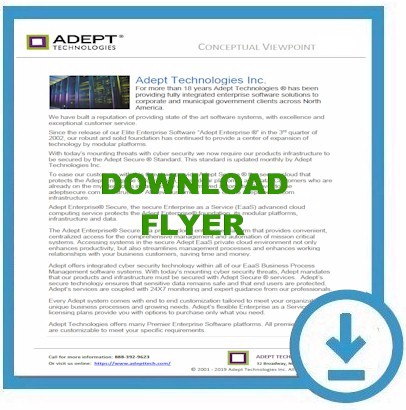 Software - Features

Manage the life cycle of all activities
Leverages AI to remove redundant processes
Simplify tracking and inspection processes
Site Processing
Parcel Processing
Contractor, Engineer, Developer, Architect Processing
Trust Accounting
Inspection Processing Event Maintenance
Track Transactions by Multiple Tender Financial system
Store Historic digital archive files
Easy to use auto document management system
International Building Code inspection Integration
Options to Start Permit Process from Parcel Information in GIS Maps
Professional Contractor Licensing
Windows, Web Based, and Mobile Technology
Software On-Premise options
Customizable Screens you can easily design and maintain for each activity type and subtype
Address owner and parcel genealogy
Configuarable Reports
Citizen Access Portals
much more...


Workflow

Adept Workflow is a flexible work management system built into all the Adept Enterprise modules.

Customized workflows allow multiple users to track and manage deadlines, requested inspections and tasks that are automatically assigned based on the type and subtypes of all record activities. Staff can easily monitor action items and task outcomes and track project status, meeting agendas and correspondence that has been sent.

Photographs, documents and other materials are easily linked to individual records so all relevant information is instantly accessible within the system.

Whenever an activity record is generated, a user simply can select workflow options for a particular activity record or the system can be set-up with pre-defined timelines to automatically activate when a record is generated. Setting-up a customized workflow for an activity record takes 5 easy steps. The workflow is labeled, the main task folders created, specific tasks are outlined in a task sequence, users assigned and lastly, the appropriate status for each task is selected.


GIS Data and Map Integration

The existing GIS maps created within your own GIS systems interface directly with Adept Enterprise ®, linking mapping and aerial imagery property information with property ownership data that is instantly accessible by Field Inspectors in real time. The Adept system pinpoints the specific location of project boundaries using GIS data and identifies the types of uses and facilities located along your project.

Uptime Metrics

Adept Technologies Inc. uses multiple production servers dedicated to hosting our enterprise software systems, and these servers are redundant. When one or more servers are down for planned software updates, or hardware upgrades, our enterprise software uptime is not affected on the production servers that were not scheduled to be upgraded or serviced. These updates and services are planned over the weekends and after hours and are done with zero downtime for the accessibility of the software.

Adept Technologies Inc. is not responsible for downtime based on actions out of the control of Adept Technologies Inc. such as acts of God, Nuclear war, Global Internet failure, Global Cyber Attacks.

If Adept Technologies Inc. hosting uptime is less than 99.99% in any monthly timeframe, Adept Technologies Inc. will provide a credit to the affected customer.

Adept Technologies Inc does NOT use ANY Cloud Based Server, ANY Virtualized Server from ANY Service such as Amazon AWS, Microsoft, Oracle, Google or any other Cloud based service from ANY third party. Our servers are purchased, built, installed and running in Data Centers in the United States of America controlled by us.
System Requirements
Windows ®
64 bit
Windows 11 and/or Windows 10
Microsoft Edge, Google Chrome, Apple Safari, Firefox and Tor browsers are supported.
Intel Xeon/Core i7/Core i5 or AMD Ryzen/Opteron/Phenom processor(s)
WHQL-64 certified
8 GB RAM min (16GB+ RAM recommended)
1GB free hard drive space for installation
Hardware accelerated OpenGL 1.6 compatible graphics card with at least 512 MB RAM (OpenGL 2.2, or higher, compatible recommended)
DirectX 9 (used for audio processing only)
Back